Forensic Image Comparator in 3D: Range Of Interest (ROI) tool.

The ROI tool provides you the possibility to cut a portion of the image to be analysed. The tool is called from left toolbar with button

.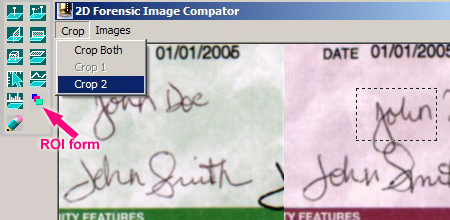 Screen shot: ROI Selector Form. ROI selected in Image 2.
The ROI is selected with mouse operation in both images. After ROI is selected the crop is done from Crop Menu as shown above. You can crop Reference Image 1, Test Image 2 or both.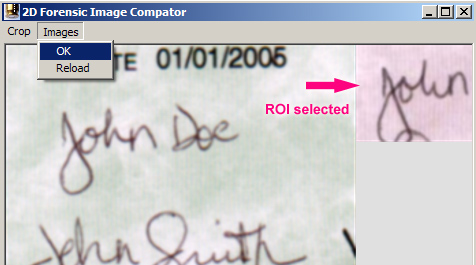 Screen shot: ROI Selector Form. Image 2 is cropped.
After images are cropped you can pass ROI to main form With Menu>OK as shown above.
For more information please contact www.sciencegl.com
-----------------------------------------------
Copyright © 2000-2013 ScienceGL, Inc.