Forensic Image Comparator in 3D: Input/Output.
Input Images
This version of the software supports the BMP files only. More formats and custom formats are available upon request.
With Screen capture option the images can be acquired from the video memory of PC. See corresponding section of this manual.
You can also paste Images to 3D from clipboard.
NOTE: Most of the CCD application support Clipboard. You can past images from clipboard to 3D using Menu>Copy>Paste Img1 or Paste Img2. Paste images operation can be also done with Shift-F1 (image 1) and Shift-F2 (image 2) keys.
The double file load dialog is called from Menu>File>Open.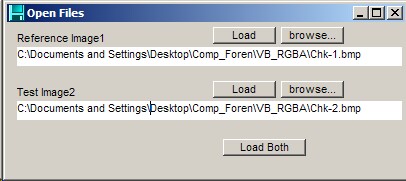 With this dialog you can load Reference image, Test image or both.
Output Images
Output options:
1. Clipboard - Menu>Copy>Clipboard
2. Print - Menu>File>Print
3. File - Menu>File>Save
Saving file has 2 options Bitmap file (BMP) or JPEG file (JPG). Use BMP when you need maximum quality. JPG file will be also saved with maximum quality, but still it might introduce some compression related defects.
For more information please contact www.sciencegl.com
---------------------------------------------
Copyright © 2000-2013 ScienceGL, Inc.