ScienceGL, Inc. develops leading edge 3D and 4D data visualization software for science, health care, technology and business applications. Our unique set of interactive measurement tools was specifically developed to enable fast and accurate data analysis across the fields of Science, Technology, Education, and Business.

We provide advanced multi-dimensional data visualization software and hardware that help our customers to analyze and understand what matters the most.

We believe that critical decision making that involves massive amounts of complex multidimensional data requires more advanced and interactive visual representations than simple tables, pie-charts, and line-charts. Our 3D, 4D, and 5D visualization engines provide a unique combination of speed, realistic visual impact, and fully interactive interface.
Applications

Dimensional metrology, 3D CMM, NEW SOLUTIONS Call for detail
Surface metrology, analysis, measurement, characterization, Interferometry
Microscopy, AFM, SPM Tour>
Volume Visualization Tour>
Laser Scanner, TOF camera, Cylinder and Spherical coordinate data
Nanometrology, nanotechnology, nanomanipulation
Geography, GIS visualization, LIDAR data, satellite image, DEM data Tour>
Forensic image enhancement processing and comparison Tour>
Multiple layer 3D data comparison Tour>
Magnetic resonance research, MRI stack processing
Computed tomography imaging, medical CT Scan, CAT Scan, DICOM multiframe data sets Tour>
Ultrasound skin scanning, medical image processor, segmentor
Archeology, LIDAR data processor, Tour>
4D volume visualization, voxel data processor, Voltex direct volume visualiztion.
Business graphics, data mining Tour>
Scientific data visualization in Financial Market analytics
Earthwork, construction estimation cut and fill, CAD Tour>
Hydrographic Survey, Dredging Tour>
Laser Beam Profiler, Measurements and Analysis
Thermal Imaging, Tour>
Stereo display support, Tour>
Medical PACS, DICOM imaging in 3D, Tour>
Time resolved EEG, FFT spectrography, Tour>
Graphics for web site development and business, Tour>
Visualization is the Art of Science, Gallery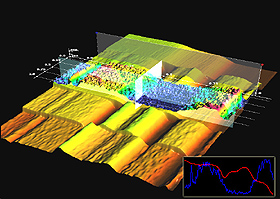 More dimensions to your data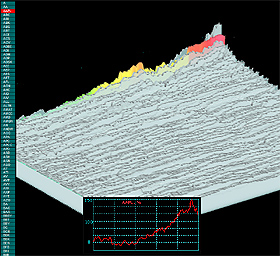 More intelligence to your business solution
Faster decision making for managers
Quick solutions, more productivity for developers
New insight and more ideas for science